Posted on:
22 Dec 2020

There are many key circumstances that can put your car on fire include high temperature, engine heat, electrical circuits in the vehicle and the fuel presence that is combustible. Fire is always unpredictable be it at home, workplace or in the car while traveling. Fire can be real deadly for you and the travelling co-passengers. Fire is an uninvited thing that does not comes with a warning sign and can completely ruin your travel. The only most intelligent and efficient way to make sure the safety of you and your belongings is to carry a good quality fire fighting device in place. A personal fire extinguisher in car can really help you to avoid injuries and any damage to your hard-owned vehicle in such situations.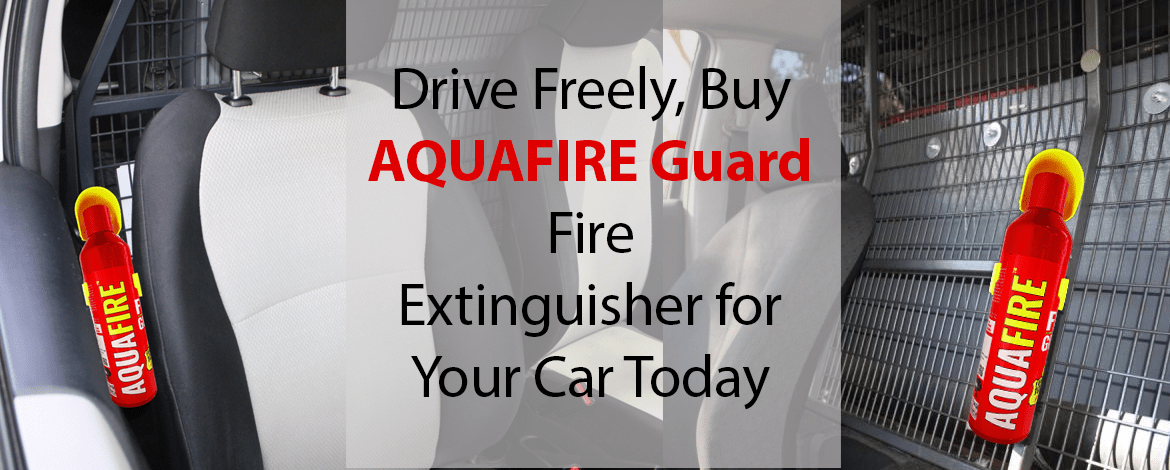 You can ensure a safe and pleasant drive by installing AQUAFIRE Guard in your car that support all classes of fire be it Class A, B or C. AQUAFIRE Guard is an innovative product from a well-known brand Fire1on1 whose objective is to make India Fire Safe by equipping everyone with an efficient firefighting equipment at affordable cost.

Car fire extinguishers are the foremost thing that you must install in your car. It works like an emergency kit that can save you in any fire outbreak.



Few qualities that a car fire extinguisher should have are it should be compact and lightweight so that it can be place in your car within reach.

Keeping in mind all required parameters, Fire1on1 has launched AQUAFIRE Guard which is a personal fire extinguisher for cars. AQUAFIRE Guard is amazingly lightweight and portable and hence can be use even by kids in case of any fire event. AQUAFIRE Guard has been made to extinguish fire in cars with excellent extinguishing speed to secure you from any fire hazards. It can put out a fire fast and easy due to its spray nozzle design which can throw the foam to nearly 10 feet distance which also makes it safe to use.

AQUAFIRE Guard works well on Class A, B and C fires and comes with a shelf life of 5 years which makes you tension free for at least 5 years. There are few brands that made low quality fire extinguishers and the body made up of Aluminum Tin which can easily get blast when expose to high temperature and also may get rust. The body of the product is made with high quality MS Steel due to which it cannot rust or break or burst even in high temperature during summer. Another amazing advantage of buying AQUAFIRE Guard is that it available at a basic cost of Rs. 600 in retail and also it comes with buyback offer which means you can get a new bottle when it goes empty that too at just basic cost of Rs. 200.

You can order the safety to your life by booking AQUAFIRE Guard for your car today online at www.fire1on1.com and we assure you hassle free delivery at your doorstep. Remember, AQUAFIRE Guard is completely non-toxic and environment-friendly and made in India product. Having AQUAFIRE Guard in place can help you avert any mishap while on the road. Drive freely & safely, buy AQUAFIRE Guard car fire extinguisher today!